My favorite things all in one picture.
It's only Tuesday and this week is barely moving. But thank
God,
it's finally December. At least, tomorrow would make it official. Last night, I decided to ravage around my house and found a few old holiday cookbooks. Sat around, flipped through them, made a list of ingredients to purchase... Of course there were some hard ones that I'm not even going to
try
because I know I'd fail before even trying.
I'm a great multi-tasker you know. Of course and always, I watched my two favorite shows 90210 and Gossip Girl while doing these (during commercial breaks, obviously).
I even started making my holiday gift list.
I like to be organized when it comes to the holidays. It keeps me upright and well aware of what's going on. It's fun sitting down and jotting down gift ideas for your friends. You know what they say... "It's better to give than to receive." And personally, I agree. It really is. The feeling of it all overwhelms me to a certain extent.
25 days until Christmas...starting tomorrow. I'm overjoyed just from thinking about it!
Nothing far too exciting happening for the first few weeks of December except for getting that last minute Christmas shopping in. Christmas caroling, ski retreats here and there...
Treated myself to an early Christmas gift over the Thanksgiving Break with a red peacoat...
finally.
I've been looking everywhere for the perfect red coat and thanks to Black Friday, I found one :)
I adore this yellow trench coat that Jessica Alba's rockin' (below). It looks so fierce with those cream-colored accessories...
Sigh.
Maybe next Christmas.
I'm really not that big of a spender as people make me out to be. I'm really not. I know when to stop and I know as of right now, I do not need another coat added to my 23493488 other coats :)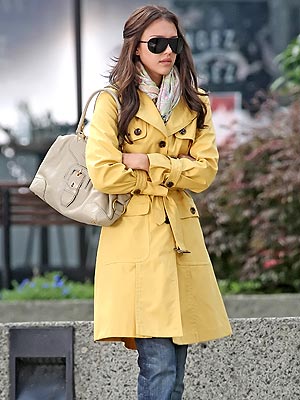 Jessica Alba
LOVE THIS!